Trainers, John Hanke recently published a tweet on his personal account here that encourages the Use of Pokemon Go to help combat Mental Health issues.
The link he included leads to an article from the Psychology Today website and a guest post that has found in a recent study that not only can Playing Pokemon Go lead to increased "Letters and words memory" but can also reduce negative mood!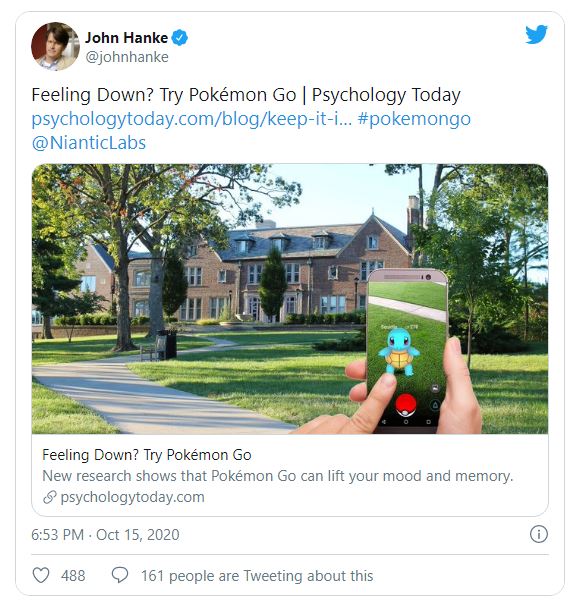 We at the Hub think that this is a fantastic idea and wanted to share a few personal accounts of how Pokemon Go has helped ourselves and our nearest and dearest over the years:
KittyPokemon'sALot – Senior Writer for GoHub
"The last few years have been fairly terrible from a personal standpoint, with far too many deaths in my family, and then the pandemic on top of all of that. It probably sounds daft, but it sometimes feels like the one consistent thing in my life is Pokemon GO. When I've just wanted to curl up and never leave my bed again, Pokemon GO has encouraged me to go outside, to interact with the community and my friends, and to write. Taking AR photos during the first lockdown in the UK was a way I could feel created, even when stuck inside my house for months on end. Pokemon GO has become a little comfort blanket for me, part of my lifestyle, and it's something I know will have events and things to look forward to, even when the world makes it feel like there isn't anything to look forward to. Whether it's a new shiny, or a community day, or a new raid boss, it's something that changes when life seems to be standing still."
"I appreciate that so much. This year has been so unkind to everyone, and seeing the changes Niantic have made to allow us to play from home has really helped, especially as a semi-rural player. I've felt pushed to better my local area for play, taking it from no gyms and only 2 Pokestops to 5 gyms and 10 pokestops. It's given me something to focus on and pass the time with, and it's made me smile when not a whole lot else has seemed to be able to. Early on in the game, it has also helped my anxiety tremendously. I didn't raid at first because I have anxiety and I was scared to meet up with new people, but over time I interacted with the community online and then felt I was able to make an appearance on the edges of the group, before eventually finding some of my very best friends. I'm not someone who makes friends easily, and Pokemon GO has really helped me make some friends as an adult for the first time in a long time. I'm a lot more confident in new situations and with people, I don't know, and the community I've found has been so lovely and I feel very lucky. It has its drama, of course, any large group of people does, but there are some truly good eggs I'm proud to call my friends (Shout out to Scott, Scott, Matt & Amoret in particular!)."
Ray, Aka: OrangeHeart – Content Creator & Graphic Designer for GoHub
When I started doing Pokémon GO infographics back in 2018. I would receive a lot of criticism (also from other creators for not doing what they do). I've always tried to be unique in a way, but still as informative as can be. In the end an infographic is about spreading the essential information in an appealing way.
I didn't feel like giveaways and promotional activities were the way to go for me, I want people to follow me on social media, because they like what I'm creating. That's also probably the reason why my follower count has been steadily growing, without any peaks or drops.
So far so good, but being a person that is a perfectionist and can't stand injustice, I had 2 things to deal with mentally.
The perfectionist part is immensely difficult when you're spending hours and hours on infographics and the first comment isn't a "thank you!" or "nice graphic", but the most annoying "you have a typo" or "that's the wrong icon", while in essence, the information I'm giving is still accurate. Especially people who say "your graphic is wrong", when it's a mere typo. Let me be clear that 80% of players are very appreciative and show that on many occasions. But the other 20% can be very toxic, especially when it comes to your mental health.
The injustice part would be other "creators" copying my graphics without giving credit. Copying elements, pretending they're their own. Cropping my graphics, so my credentials would no longer be visible. Everything in that corner of the community is just low and rude. Either be creative yourself, OR give credit where credit's due. It's the only respectful way, especially when we're not even making money off of it. I honestly can't understand people who think that it's okay to copy or pretend they made the graphic.
Both angles were very toxic and sometimes even made me want to quit doing them. The lack of respect and especially the people who think they're entitled to certain things is what's toxic about the Pokémon community. The most toxic corner of the community would be the hardcore PvP players (not all of them obviously), but the only graphics that get a lot of backlash are the ones about counters in battles / pvp. Even after consulting a bunch of PvP players to come up with the right counters (based on consensus), after stating that the counters are just suggestions, after being free to choose your own team and my no means the counters are the way to go for everyone… Still I would receive too many opinions.
It all hit me very hard at one point. Never a "thank you", always the grammar police. Coming up with a new design, only to learn that a "thief" is getting credit for it. Trying to give the community helpful information, only to see unhealthy discussions grow in the comment section. By now you're probably wondering; how the hell did that help your mental health?
Like I said, it didn't.. Until I started asking myself why these people would behave the way they do. Is it worth all this backlash, over and over again? And I've learned that the issue isn't me, it's them. It's the lack of respect their mother didn't teach them. It's the lack of respect for other people's time and effort and the arrogance to not give credit. Basically many of these people are insecure or have an underlying issue, where Pokémon GO is the only thing worth living for. And to be fair, all that toxicity fed my insecurity, to a point where I said to myself that it was enough. I went outside, completely abandoning Pokémon GO for a few weeks, doing the bare minimum on infographics, and started being social with friends and family. Picking up sports I'd never done; golf, beachtennis and skiing and got good at it.
It felt like a fresh start, because I started doing the infographics when I was in my all-time low. I had just been dealing with the Barcelona attacks, recovering from surgeries and sat at home doing nothing. Picked up my laptop and taught myself how to work with Photoshop and I quite quickly got better at it. This hobby turned into a tiny business and it was fun. Fastforward to October 2020, I'm currently thriving in life (not in Pokémon GO). Creating these infographics has become a hobby again, I'm feeling strong mentally, because I've found out that life is about a lot more than this (or any other) game. In my opinion, a game and everything surrounding it is always supposed to be fun, including creating infographics.
I'm enjoying what I do, and of course the above points are still happening. The first comment will still be something negative (typo, missing icon, etc), there are still people copying my work or elements of it and there are still so many people who think their opinion is the absolute truth, which we can all see isn't working well in any position. *cough POTUS* So yeah, I'm rolling my eyes on a regular basis every day, cause I couldn't care less at the moment. Creating the infographics is fun again, and that's what matters to me. I hope people like them and share them locally to update their friends on upcoming events / researches / raids / etc. And most of all; have fun playing the game, instead of complaining. If the game isn't rewarding enough for you, stop playing it. It's that simple, no matter how much time you've already invested, it was fun while it lasted!
I'm personally still a perfectionist so constructive feedback is welcome and I'll still fight for justice, I'll just pick my battles. It's been a bumpy ride getting myself back on track, but I'm far more relaxed these days. I love Pokémon GO, but it's definitely NOT important in life. That's how I regained my sanity! ?
Yours truly and cheers,
Ray from Orange Heart
SpinDiana – Moderator for GoHub
In the summer of 2017 I had a full mental health breakdown. I was signed off work, I was incapable of making my own decisions or looking after myself and I found it very difficult to interact or respond to anybody. Around that same time, raids were introduced, Pokemon players gathering to work together to catch never-seen-before legendary Pokemon.Up to that point, playing for me had always been a solitary experience, there was no need to co-operate or co-ordinate with anyone else. It was Ho-Oh that finally drew me out my house for my first legendary raid in December 2017, I joined up with my local Pokemon Go community and after spending time chatting online was finally convinced that I would not be ridiculed for my lack of experience or 'good' pokemon.I've always kept that first Ho-Oh as a reminder of where I used to be mentally. Pokemon communities can be a very positive influence on peoples well being. I know having that common ground with people I didn't know gave me back my confidence to talk to others, to get back into the world and ultimately sped up my recovery. On the rough days Pokemon Go keeps my mind busy and it does me good to keep that interaction with the outside world going, it helps remind me that things are not as bad as they seem.
MeteorAsh – Junior Writer for GoHub
Pokémon Go brought about a sense of purpose, passion and high spirits in my life <3
Parting Thoughts
This year hasn't gone exactly as everyone expected. The pandemic has caused changes to almost every aspect of people's lives and whatever your opinion on Niantic, at least they have implemented changes to our much-loved game to make it more accessible during a difficult and trying time.
It is also refreshing to know that some of the little joys we still have left can help us in ways we didn't even realize!
It can be tough out there, Trainers. So stay safe.