Remember the endless storm that we had to endure on Seirai Island? Now, imagine if the challenge we're facing is how to avoid getting lost in the mists of Tsurumi Island. Thankfully, there's a world quest that we can complete. Here's our Genshin Impact guide to help you with Tsurumi Island's Through the Mists world quest and how to make an offering at the Great Thunderbird's perch.
Note: For more information about the game, check out our Genshin Impact guides and features hub.
Genshin Impact Through the Mists world quest – How to make an offering at the Great Thunderbird's perch on Tsurumi Island
As mentioned in a previous guide, the Through the Mists world quest in Genshin Impact starts in Inazuma City. Then, once you arrive on Tsurumi Island, you're told to pass through an archway. The moment you do this, the mists in this particular area will be partially cleared.
After this, you'll need to talk to a kid named Ruu. He runs off, so you'll need to chase after him. This is where things get interesting. Because the zone remains covered in fog, you can't just run all over the place. Instead, you'll want to follow pathways with lanterns. Lanterns with white glows are permanently lit, and those with a purple glow need to get hit with an Electro ability or attack (i.e., Fischl's charged attack). By ensuring that the paths you pass through are well-lit, you won't get lost in the mists (hopefully).
Ah, but we've only just started. Once you reach Ruu's location, he'll introduce you to two of his pals. Likewise, he'll start rambling on about some Great Thunderbird (a mythical creature that once lived on Tsurumi Island). The ancient tree that you see nearby is considered a Great Thunderbird's perch, and Ruu wants you to interact with it.
Once you do so, three purple orbs will fly out. These are actually feathers that you need to pick up (they also appear on your minimap).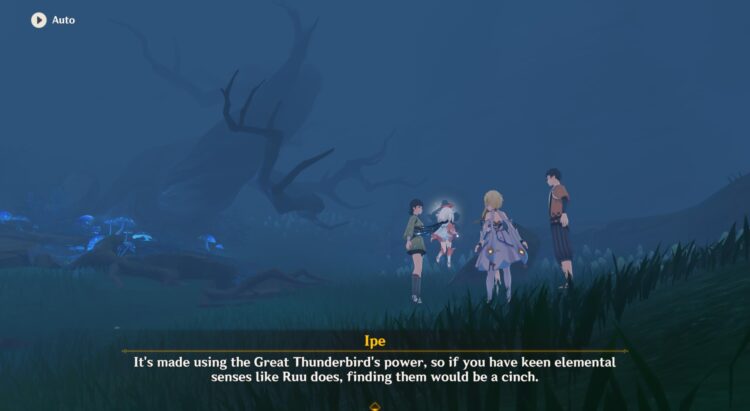 After collecting all three feathers, return to the tree and interact with it. You'll see a short cinematic play where the tree comes to life. Likewise, you'll notice that the fog has also been cleared in that area.
This is how you make an offering at a perch in Genshin Impact's Tsurumi Island.
The ceremonial site and the remaining perches on Tsurumi Island
After clearing the first perch, go to the marked location to reach the ceremonial site. You need to talk to a priest here, but that fella isn't available. Instead, you're tasked with making offerings at three additional perches on Tsurumi Island.
If you look at the world map, these locations are covered in mists. These are Autake Plains (west), Shirikoro Peak (northwest), and Chirai Shrine (northeast).
Now, because deadly fog also covers the roads leading to these areas, you'll still follow the same concepts as before:
Use the lanterns (light them with Electro if they're purple).
Reach the perches and interact with them.
Collect the feathers.
Make an offering at the perches to clear the mist.
Oh, and one last thing: you'll encounter new enemies here: Rockfond Rifthound Whelps and Thundercraven Rifthounds. These mobs cause the "Corrosion" status effect which causes all party members to continuously lose HP.
---
Genshin Impact is available via its official website. For more information, check out our guides and features hub.